You are here
ABVMA Report: Response to the Fort McMurray Animal Evacuation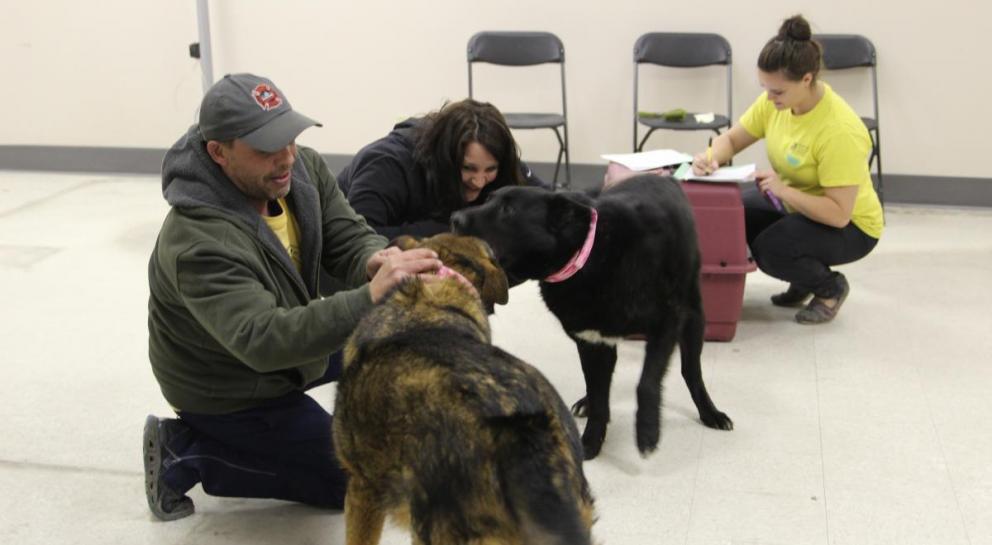 A wildfire caused the evacuation of 80,000 residents from Fort McMurray, AB, on May 4, 2016. Some residents were able to take their pets with them when they evacuated. Others were at work across the city and unable to return home to retrieve their pets. Where pets were left behind and, given the extended duration of the evacuation, this required a coordinated rescue effort where residents applied to have their animals removed from their residence, peace officers worked with animal handlers and, if necessary, locksmiths entered houses to retrieve animals. The animals were examined by a veterinarian and staged in Fort McMurray. Animals were then evacuated to the  People and Animal Reunification Centre (PARC ) in Edmonton, AB, where they were triaged, received veterinary care and housed until reunited with owners, or transferred to veterinary practices for further diagnostics and treatment or placed in temporary partner housing until reunited with owners or re-homed.

Despite having no documented plan, the response of veterinary practices, veterinary technologists and veterinarians in response to the Fort McMurray wildfires was an unqualified success because of the volunteerism and unselfish response of Alberta's veterinary professionals.

The coordination and hard work of the people of the Alberta Society for the Prevention of Cruelty to Animals, Edmonton Humane Society, Alberta Spay Neuter Task Force, Alberta Veterinary Medical Association, Alberta Agriculture and Forestry, Fort McMurray Society of Prevention of Cruelty to Animals and area veterinary practices overcame unforeseen deficiencies in planning and execution to result in the successful evacuation, medical care and reunification of 1,192 animals with their owners.
Looking Forward
The ABVMA is proud of the overwhelming support provided by Alberta's veterinarians in the face of crisis and felt compelled to share what we learned. Moving forward, we plan to apply what we've learned from this incident to future emergency response initiatives. You can read the recommendations in the official report, or see more coverage of the Fort McMurray animal evacuation on Alberta Animal Health Source.