You are here
What is a Veterinary Technologist?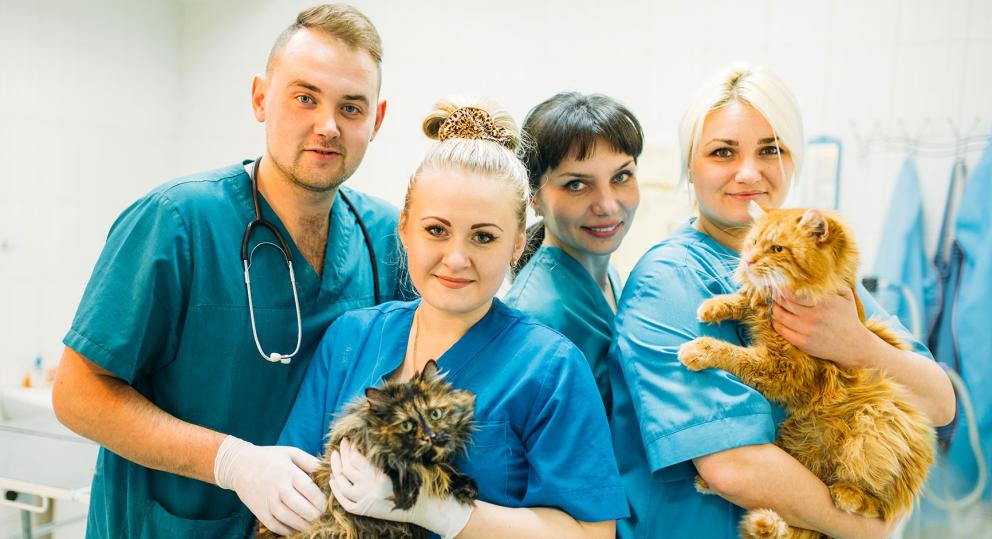 Veterinary technologists, commonly referred to as vet techs or veterinary nurses, help veterinarians treat and care for animals as part of the veterinary team. Their duties include performing laboratory tests, filling prescriptions, preparing animals for surgery, monitoring anaesthesia, assisting in surgical operations, and monitoring and evaluating clinical symptoms.
As specialized assistants, vet techs have much to offer in the care and management of animals. If you are a dedicated, caring individual, a rewarding career in Veterinary Technology awaits.
Veterinary Technologist vs Veterinary Assistant?
Having a formal education and professional certification, vet techs are qualified to do more advanced clinical tasks than vet assistants who usually learn on the job or complete a certificate program.
Veterinary Technologist or Animal Health Technologist?
Animal Health Technologist and Veterinary Technologist are acknowledged as a similar designation. When Animal Health Technology was first recognized, the terminology used was AHT. Most associations in Canada have since changed the preferred name to VT. The ABVMA has designated a Veterinary Technologist a protected title in January of 2017 with the passing of new legislation.
The R in RVT (and RAHT)
The "R" stands for "registered". Just like veterinarians, veterinary technologists are required to complete post-secondary education, successfully complete a national exam, and be registered with the Alberta Veterinary Medical Association. Veterinary Technologists are also members of the Alberta Veterinary Technologist Association.
Career Opportunities
Most vet techs practice at private veterinary clinics, but they also work in many other areas of the animal health industry including:
universities and research institutions
diagnostic laboratories
humane societies and pounds
zoos and wildlife sanctuaries
government services
agriculture and veterinary laboratories
boarding kennels
pet stores
feedlot operations
horse boarding and training centers
ranching and dairy companies
pharmaceutical and medical supply companies
animal food companies
Vet techs are in demand anywhere there are animals. A good place to enquire about job openings would be with the provincial licensing body. In Alberta both the ABVMA and the ABVTA curate help wanted classifieds.
Education
To become a vet tech, you must graduate from a CVMA or AVMA accredited college technology program, typically a 2 or 3 year diploma program, and successfully completes the Veterinary Technician National Examination (VTNE).
Currently there are 19 accredited Animal Health Technology Programs in Canada, with 4 of those options located in Alberta.
Consult with each institution on the admission requirements and duration of each program.
Veterinary Technology Specializations
The roles of a vet tech are varied, and there are many specializations for aspiring veterinary technologists to choose from. Based on your interests and your aptitude, consider specializing in one of the fields below to maximize your contribution to protecting animal and human health and welfare.
Dental care
Laboratory research
Anesthesia
Behavioural study and conditioning
Equine veterinary nursing
Internal medicine
Nutrition
Pathology
Surgery
Zoological medicine
Emergency and critical care
Veterinary Technology Organizations
For more information on a career as a Veterinary Technologist consult the following resources:
Alberta Veterinary Technologist Association (ABVTA)
Registered Veterinary Technologists and Technicians of Canada (RVTTC)
Saskatchewan Association of Veterinary Technologists (SAVT)
Society of Veterinary Behavior Technicians (SVBT)
British Columbia Veterinary Technologists Association (BCVTA)
Eastern Veterinary Technicians Association
Manitoba Veterinary Technologists Association (MVTA)
Ontario Association of Veterinary Technicians
National Association of Veterinary Technicians in America (NAVTA)
International Veterinary Nurses & Technicians Association (IVNTA)