You are here
National Animal Shelter and Rescue Appreciation Week - November 6 - 12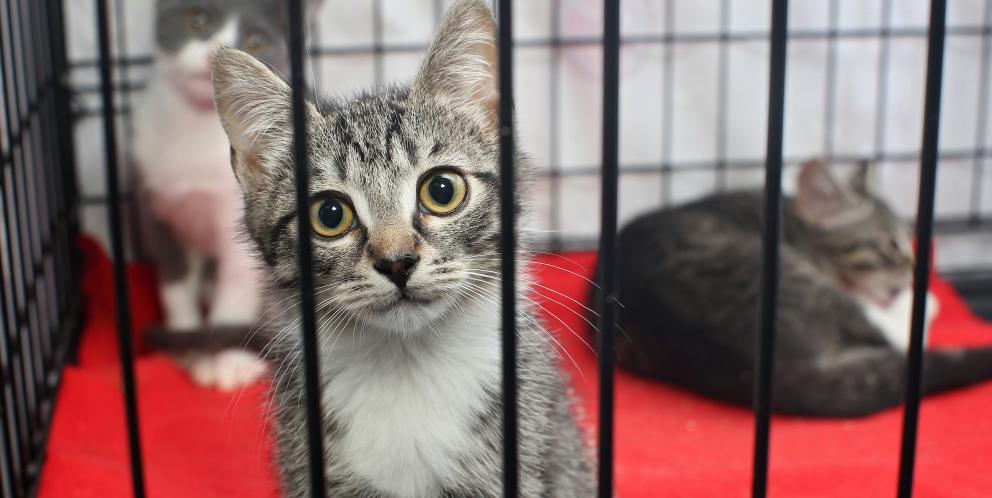 The ABVMA is pleased to support National Animal Shelter and Rescue Appreciation Week, November 6 - 12. It is an important time to recognize the volunteers and staff who work tirelessly behind the scenes for various animal shelter organizations and rescues, caring for animals that may be unwanted or in distress. It's also an opportunity to learn more about what the veterinary community and animal lovers are doing to help pets and animals who need rescuing. The ABVMA is proud of the numerous in veterinarians and veterinary technologists who go above and beyond to care for animals who are injured or in distress. This form of veterinary care has its own title, and is known as Shelter Medicine, which balances the needs of individual animals with those of the population to achieve a main goal of improving the health and well-being of animals in shelters. 
Six Ways to Celebrate National Animal Shelter and Rescue Appreciation Week
Here is a list of ideas to help you and your family acknowledge National Animal Shelter and Rescue Appreciation Week. 
Adopt a shelter pet One of the best ways you can help your local organization is by adopting a shelter animal. All kinds of dogs and cats are looking to be adopted. However, it is important that you and your family are ready for the responsibility. That way, the experience of adopting a pet will be even more rewarding for both the pet and you and your family. In order to determine a reputable shelter, consult with the Best Management Practices for Animal Shelters and Rescues in the Province of Alberta. Also, find an organization that is compliant with the Canadian Food Inspection Agency (CFIA's) new regulations prohibiting the entry of commercial dogs from countries at high-risk for dog rabies.

Become a foster Becoming a foster parent or foster family for dogs and cats frees up space in the shelter for more animals and provides a home for shelter pets who would benefit from additional or specialized care. 

Become a volunteer Volunteers are an important and much appreciated part of animal shelter organizations. When you volunteer, you become part of the lifesaving work of your local rescue organization and part of the solution. 

Be a responsible pet owner Another way to support animal shelter organizations is by being a responsible pet owner. Keeping your pet spayed/neutered prevents unwanted or accidental litters and keeps your pet from adding to the large population of pets needing homes.  

Spread the word One of the simplest ways to help out your local shelter is by sharing the word in the community! Let your friends know about events and fundraisers happening, share photos of adoptable pets with those who are looking for a new pet, and help be the voice for the dogs and cats who don't have one.

Donate Animal shelters can't do what they do without public support.  There are many ways to show your support through donations including financial support or donating items such as pet food, toys, pet care items, blankets and towels, cleaning products, and office supplies. 
Animal Shelters and Animal Rescue Organizations in Alberta
There are numerous Shelters and Rescue Organizations operating in the province of Alberta, who are working hard to make a positive difference in the lives of pets, livestock as well as pet owners, livestock producers and the veterinary community. Many of these organizations are household names in the province, while some may not be as well known. The ABVMA has provided more information to help you make an informed decision.  
Humane Societies and SPCAs or Societies for the Prevention of Cruelty to Animals, are considered the largest animal welfare organizations in Alberta. 
The largest SPCA in the province is the Alberta SPCA - which focuses primarily on enforcement of the Animal Protection Act and public education, both of which are done at a provincial level. They do not have shelter facilities and work with humane societies to provide shelter for seized or unowned animals.
The two largest humane societies in Alberta are in Edmonton (EHS) and Calgary (CHS). Both of these societies operate as animal shelters and provide care through their own animal hospitals to hundreds of animals at any given time. The Edmonton and Calgary Humane Societies also have well-defined adoption programs, barn cat programs, foster programs, low cost spay/neuter programs, public education programs, and additional services such as pet daycare, grooming facilities and behavioral training. 
The number of Rescue Organizations has grown considerably in Alberta over the past 15 years. The most common reason or theme is ease of entry—there is no formal regulatory oversight of rescue organizations, outside of required compliance with the Animal Protection Act. Similar to humane societies and SCPAs, rescue organizations plot along a spectrum according to size and scope of their operations. Some are brick-and-mortar operations, while many are operated out of the home of a single organizer or a network of organizers' homes. Some rescues choose to focus on rescuing a specific breed or type of companion or livestock animal. Rescues who lack facilities for their operations often rely on foster networks to manage day-to-day care for the animals they take in. Medical care is typically provided by a local veterinarian, often at a discounted rate.
Satellite Adoption Centres are made up of partnerships between a humane society or rescue organization and a pet store. The purpose of these partnerships is to showcase and adopt homeless animals, in compliance with a partner organization's adoption screening process and policies.
Animal Control Services and Pound Facilities
Animal Control and Animal Pound facilities are most often operated by counties, municipal districts, and municipalities. Similar to rescues, humane societies, and SPCAs, these services and facilities range in size and scope. In larger cities like Edmonton, the Animal Care and Control Centre (ACCC) operates kennel facilities for lost and stray pets, as well as an animal hospital where veterinary care is provided for the animals under their care. ACCC also has peace officers who respond to public safety concerns as they relate to animals, while taking animals into their custody who are deemed lost or stray, as per prevailing bylaws. In Calgary, peace officers who can enforce the Animal Protection Act, are stationed out of the Calgary Humane Society. Alberta SPCA peace officers cover the rest of the province. The key distinction between animal control services and rescue, humane society, and SPCA is that animal control protects people from animals, while their counterparts protect animals from people.
A very special thank you to the veterinarians and veterinary technologists who make a difference 
The recent pandemic caused a shift in animal adoption and ownership, and veterinarians and veterinary technologists stepped up to help animal owners.
The love of animals is what sets veterinarians and veterinary technologists apart. They are truly special people. The ABVMA salutes those veterinary professionals who serve in shelter medicine and provide medical care for abandoned and injured animals. 
During National Animal Shelter and Rescue Appreciation Week, the ABVMA encourages everyone to acknowledge veterinary professionals working in the field of shelter medicine. A small token of gratitude during this time or at any time throughout the year will be greatly appreciated.
Sources: